Piano Video Lessons made just for you
What if you could get piano video lessons made just for you? What if you could have your piano lesson at any time you wanted? What if you could exchange videos with your teacher as many times as you'd like, and still learn the secrets of the great pianists only by practicing music?
That's how we do it in PianoClass!
Custom-tailored Piano Video Lessons

We created this for people who have a busy schedule, want to have piano lessons late at night, have their own studying schedule or don't have a very fast and stable internet connection.
You will record your practice, the final results, and any questions you have and send them to your teacher. By the next business day, your teacher will have sent you a video made just for you with comments, guidance, and all the answers to your questions.
Playing with art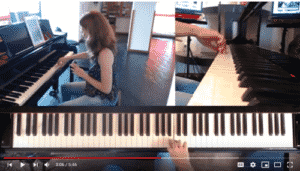 You will learn to read sheet music very fast, in your first pieces. And at the same time, .we can start the more important work: making art through the piano!
You will learn to listen, create, and play with a rich and immersive sound, always through your repertoire. Your teacher, with experience on stage, in teaching, and in the virtual world, will guide you through every step and will help you create a solid foundation in which you can build your own musical identity.
Much more than just a class
With custom-tailored video lessons, you can choose how much video time you want for your private & live online piano lessons, you get access to at least 36 Special Activities per year with our teachers and guest artists, and you still get unlimited Extra Follow-up through shared platforms between you and your teacher, be it over text, audio, or video.

Entrevista com Luiz Senise (2018)




Reach out and get your first videos!
Knowing your goals in music is the best way to clarify your questions
and find the best package for you.
Know PianoClass through our students!
There is no one better than our own students to tell you about learning to make art here at PianoClass.
"… I found PianoClass and thought the organization and the professional background of the teachers were very interesting. I wanted to try it out and scheduled one lesson with teacher Fernanda. I deeply liked the teaching, the amount and quality of instructions gave to me and the virtual experience, shortening a distance of 2.000 miles"
Luciana Carvalho (2017)
Make music and art with us!
Reach out and get your first videos.