Piano for Kids
At PianoClass, classes for kids open a new world for our younger students and their families. Using the piano, the body, and the voice, we discovered what makes the musical language so rich and immersive. By watching concerts and listening to music, we increase our repertoire and our passion for art. Knowing the great composers, we can discover different cultures from different times. Through the sheet music, we learn the importance of writing down thoughts and using that to go beyond just the thoughts.
The best gift you can give to your child!!






Scientific studies show that kids who had a good musical education develop discipline, respect, pay more attention to detail, have better perception of space-time and kinaesthesia, and keep the innate ability to use sound as part of one's awareness and the imagination as a base to project onto and materialize one's ideal world.
Online, live, through videos, and personalized
We all need consistency to create a new habit and fall in love with a new practice, especially children. Therefore, our piano course for children include:
Live meetings, twice a week
Practice videos between classes
Video, audio, and text exchange
Shared platforms with didactic material
Special activities for the parents to participate
Support for the parents
A special time for your family!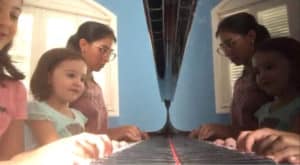 The PianoClass piano course for children is different because…
The child learns in the comfort and security of their own home.
The child's family has another fun activity to spend time together
We play with the works of the great composers (both living and dead) and state-of-the-art didactic material.
We use the right technical terms since Day 1.
We approach every necessary musical aspect to guarantee a full learning experience (perception, reading, writing, and artistic technique on the piano)
The teachers are experienced pianists with a specialization in learning techniques
The parents get all the support and guidance they need.
Reach out and schedule your first Skype meeting with us!
Knowing your goals in music is the best way to clarify your questions
and find the best package for you.